Do you have an upcoming event or task? Do you want to keep it in mind and share with other people ? Itwillbe widget makes sharing a countdown very simple and easy! This way, all your friends will remember that special event coming up, and won't forget to prepare and participate! It is so convenient and visible, your entire team, squad or family will get used to seeing Itwillbe countdown widget on you blog or forum.
HOW TO USE A COUNTDOWN WIDGET
Once you have created a countdown, press a "Share" button on the right side. A new screen will open, with several sharing options available. You can share it on Facebook or Twitter directly by pressing an appropriate button. Or you can copy-paste countdown widget html code on any website or forum of your choosing. That would embed a countdown on your platform, with a number of days, hours, minutes and seconds left shown at all times. You can send that widget iframe code via direct message to your friends, and they can upload their own countdown timers on their blogs or social networks.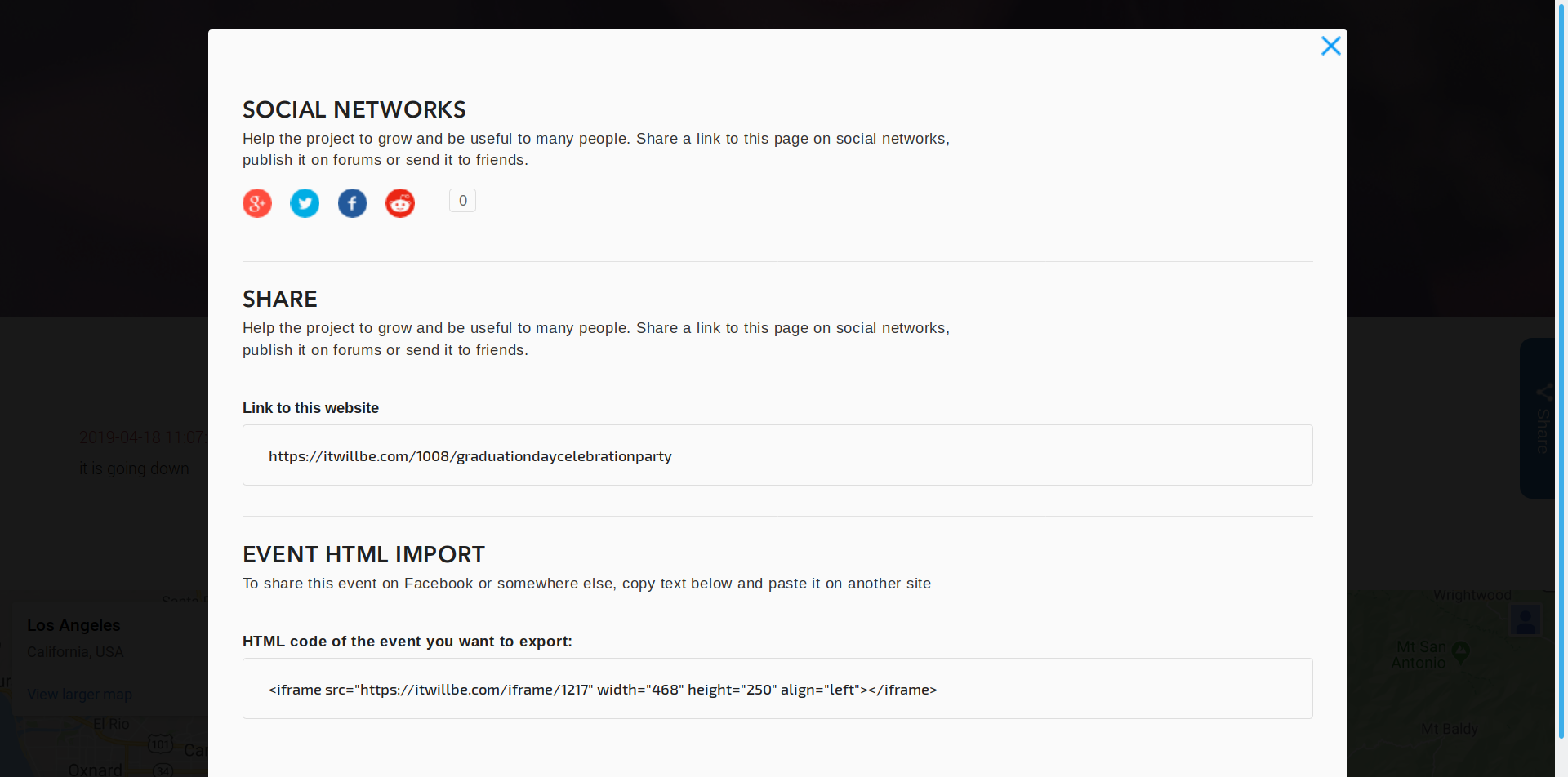 ADVANTAGES OF ITWILLBE COUNTDOWN WIDGET
Our countdown timer is completely free and good looking. Its style and color scheme are customizable, our countdown clock has all options available for describing and updating an event. Broadly speaking, itwillbe calendar countdown simply looks good and organic, like any 21 century design should. Our countdown widget app will provide you with precise, intuitive way of tracking the event. It can be a holiday, some kind of task you need to perform, a deadline, a concert you want to attend. Quite often, people that meet online and plan to do some activity on the Internet together, like a gaming event, will use our countdown clock widget and post its html code on a web forum. This informs all other participants about exact time of event, and in this way, no one feels left behind. Our software is stable and reliable, you can use it both for dates that are very close or very far away and be assured that your countdown timer will continue to function. If your friends want to comment on the countdown, they can do it using a Facebook comment plugin.
Countdown creator can update the page using the "News" field for some new information. It can be a link to your blog or just some informative text. If your event has some kind of geographic dimension, e.g. it is going to happen in some particular place, you can specify it in a "Location" field. It will help all the participants to find each other and the event that is happening.
Of course, textual descriptions are great and informative, but as we all know, an image is worth a thousand words. That is why our online countdown supports uploading up to 3 images that can describe your event. Additionally, you can include a link to a Youtube video to illustrate your countdown theme. Of course, we have thought about different style preferences and included several customization possibilities. That is why your countdown calendar and clock can look in 6 different ways, from futuristic to old school. You can experiment with different styles and find out which suits best your personal taste and the context.
We also have 8 countdown background color schemes for our users to choose from. They include:
blue
yellow
olive green
red
purple
salad green
sky blue
turquoise
You can see a preview for a future countdown look, once you have chosen your color. Countdown making process is fairly intuitive, but if you need assistance, there is a Youtube video displayed at the top of the countdown creation page, explaining the process in detail.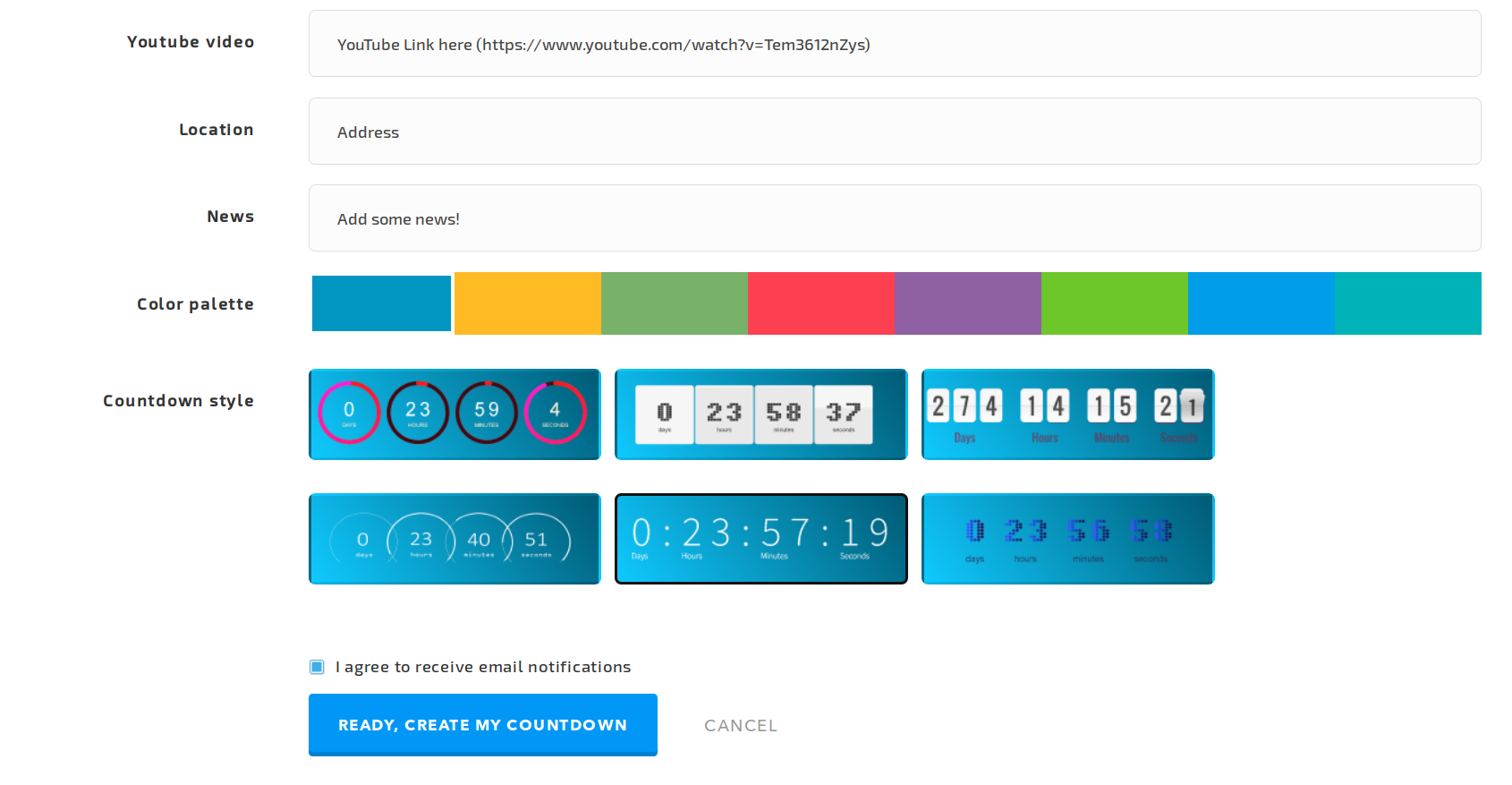 COUNTLESS OPPORTUNITIES
One can easily find problems for which using an countdown widget is the correct solution. If you celebrate Christmas, you can have your special advent calendar made, using an image of your choosing. Then you can share it with your friends and family, who can comment underneath. The whole month of December you will be reminded of an upcoming holiday because of our Christmas countdown. You can share candies and chocolate with younger family members. You can decorate your house with Christmas attributes on certain days.
Our countdown clock is also great for a New Year celebration, you can count last seconds together and raise your glasses. This epic final countdown will look great on a big screen. If you work on some project, and it is about to be completed, you can easily share it with other members of your team. Perhaps, you are going to have some kind of get together online to discuss things. Another great application is some sporting event. Itwillbe countdown widget is well-suited for sharing on forums and blogs when some game or match is supposed to happen, and you don't want to miss a direct transmission. Your crew can use comment section to share impression, or you can do it on a sports forum of your choosing.
You can also create your own standalone webpage about a certain topic, like a movie, a TV show or a video game that is coming out. You can then save your time and effort and use our ready-made countdown tool by inserting an HTML code into your page source code. It will integrate seamlessly into your website appearance, and you can increase the usefulness of your site easily. A lot of people wait for some type of product or release to come out, but they are not sure when will it happen.
Gaming event is another occasion that is very suitable for using a countdown widget. Let's say you and your team were talking on a forum about organizing a game. Perhaps everything is agreed upon, from time to server to rules to participants. It makes a lot of sense to seal that agreement in some visible, but immutable form to avoid confusion. Itwillbe page can be made to fixate all the details of the event, and then shared on forum. Do you have a colleague who is going to retire soon and enjoy some well-deserved free time ? Then it makes a lot of sense to make a countdown and share it with all involved people. In this way, a future retiree will know exactly how much longer he has to work, and his co-workers will know when do they need a going-away party organized.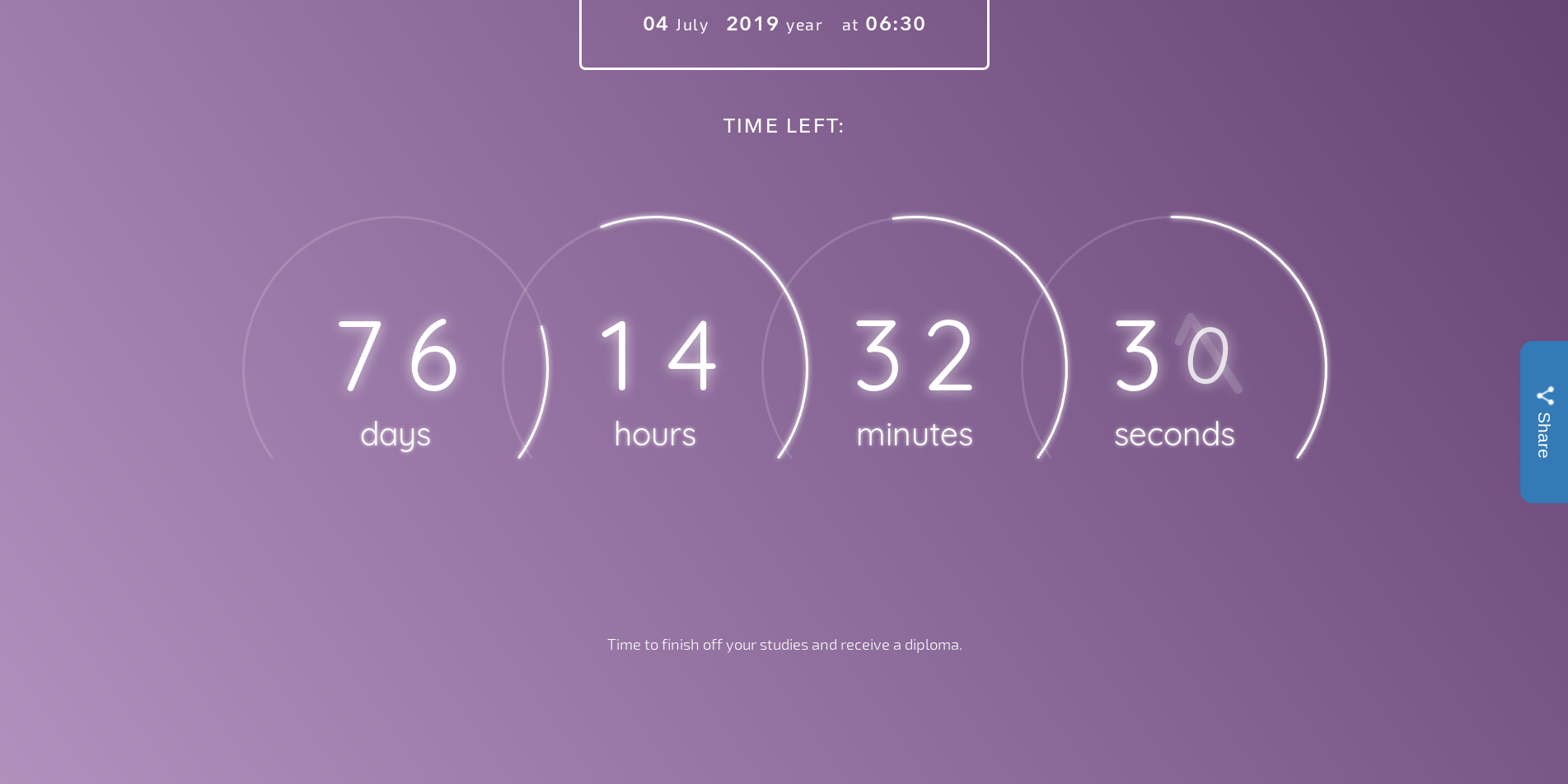 COMPARISON TO OTHER EVENT REMINDERS
Itwillbe timer widget is very lean and easy to embed anywhere you want. This is very convenient, if you don't want to deal with a standalone scheduler with many other tasks. Other services may feel overly complicated, with plenty of settings that must be tuned to your liking. They are also a bit too official and boring. Our countdown widget looks good, shows constantly the flow of time in a very understandable manner and is a joy to use.